5 Tips for Finding the Perfect Earrings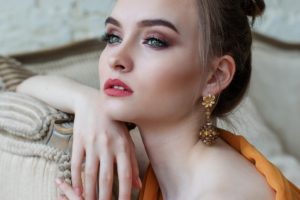 Remember when it was still cool to wear a single long feather earring?
You followed the trend, purchased one, then got home and thought…"Crap! How the heck do I make this earring work??"
Us women know all too well how hard it can be, choosing the perfect earrings to go with an outfit.
It's not that we don't have our own sense of style or that we're completely clueless on how to put a complete look together. We just like to try on a pair of earrings and ask our best friend or spouse that same question — "How do these look?"
We value advice from the ones we love or someone who's an expert on the topic.
We hope by the end of this article, you'll love us for sharing our expert advice with you.
Tip 1. What's the occasion?
So, what sort of event will these earrings be used for?
Because you probably don't wanna wear your giant, blinged out gold hoops to an afternoon high tea party.
But if they are for high tea (or any formal event), keep your earrings understated with a touch of classic elegance. A small hoop or drop earrings are excellent for when you need to glam it up without being so obvious about it.
Let's think of another scenario…
What's if it's just a day at the office? What sort of earring does work call for?
Work is the perfect time to bring out the studs! A black diamond earring (preferably a black stud) looks excellent. At work, you want to keep your look as minimal as possible to maintain an air of professionalism. Even if you secretly check your Facebook during work hours. Don't worry, we won't tell.
If you got a hot date or just meeting up with the girls, this is the appropriate time to loosen up and try out something that possibly makes a statement, like that single long feather earring.
Tip 2. Make sure your outfit matches
Regardless of what you're dressing for, earrings can make your outfit pop or flop. (Btw, the same thing applies to your choice of lipstick. So be sure to have both in check.)
Clashing colors, like a blue top with gold earrings (yikes), immediately stands out but not in a flattering way and will distract from the rest of your look.
To avoid being part of the blue & gold club, examine your closet and choose one of the secondary colors in whichever pattern you prefer.
So if your dress or shirt is blue, yellow or red, maybe go with some yellow earrings to highlight that shade. If it's a solid color, pick an item that compliments that bold look.
Matching the most flashy color in your closet can give you that Barbie doll look, so just try to avoid taking the easy way out.
Tip 3. Compliment your face
Believe it or not, a pair of earrings can dramatically change the look of your face.
For example, dangling earrings can make a longer faced woman look "stretched out," as if the earrings were pulling her face downwards. Oddly enough, those same earrings are perfect for a woman with a round face.
Choosing the right earring to shape your face might be the most critical detail in finding the perfect earring.
Tip 4. Give it taste
Remember to try and always keep your earrings tasteful and not tacky.
Just because a flea market is promoting 4 pairs of earrings for a dollar, doesn't mean anyone should buy them. Unless you prefer to rock the cheap-looking style, avoid clip-ons, bright plastics, and overly-elaborate earrings.
Tip 5. The big takeaway
There are countless styles of earrings out there. But all you need to remember is what type of occasion it is and what outfit to match them with. By following today's tips, your morning routine will be a lot less stressful. And hey, you may even get a compliment or two!