Why You Should Spend Your New Year's Eve in London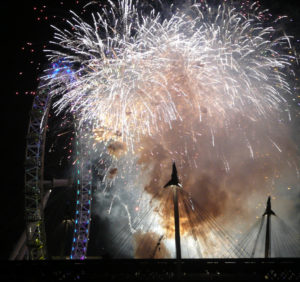 Tired of the same old start to a New Year? Nothing gets a new year off to a great start than spending New Year's Eve in a fabulous location. London is world famous for its New Year's Eve celebration and fireworks display. London provides a unique miss of old world charm, new world-class dining, and some of the world's best shopping. Now is the time to book the perfect apartments and plan to start your 2018 in jolly London.
Fireworks
London's New Year's Eve fireworks display is world-famous for a reason. You've probably seen it on television but it is a completely different experience in person. The fireworks are based at Victoria Embankment in Westminster. Tickets for this event can be purchased online. You can also view the fireworks from along the river.
Another option for viewing the fireworks is to book one of the special New Year's Eve cruises that are being offered. These cruises will offer amazing views of the New Year's Eve fireworks display plus, the views of London from the water which are special, in of themselves. A range of New Year's Eve cruises are available.
Speed boats offer an open-air view of the fireworks. Fancy ships combine the fireworks view with a range of food options from champagne and a snack to a full four-course dinner, live music, and dancing. Select restaurants overlooking Victoria Embankment are also offering special New Year's Eve dining options for those who would like to view the fireworks from there.
Hyde Park Winter Wonderland
Through New Year's Day (except for Christmas Day) Hyde Park Winter Wonderland remains option. It brings to life the best of the festive season. Even if you aren't excited by Christmas, there is still plenty to see and enjoy at Winter Wonderland. It includes over 100 attractions including rides, food, and light displays. Roller coasters, Ferris wheel, ice skating rink, ice sculptures, karaoke, a circus, and an alpine village.
Shopping
Christmas shopping in London is special. It combines the best of designers, crafts, and major department stores. If you arrive after Christmas, the shopping may be particularly enticing as you could take advantage of the after-Christmas sales. From antiques to the latest looks off the runway, there is no shortage of shopping discoveries to make. Don't miss Notting Hill for an eclectic mixture of shops and booths selling items from around the world.
Skate at Somerset House
Have you ever skated in an 18th-century courtyard? This is your chance! Somerset House will be the setting for a 900-square-metre outdoor ice rink. It's hard to top the beautiful and romantic location but the fun doesn't end here. Food and champagne will be available along with mulled wine, to help keep you warm. If skating isn't your thing, you can still enjoy the experience from a cosy dining room overlooking the rink. Skating at Somerset House is open through 14 January 2018 and tickets for the rink can be purchased online.